Let's talk about sex, shall we? Fashion and sex, that is. First things first: any conversation about sex needs to be an honest one, so let's cut straight to the chase. Sex appeal will always be an integral part of fashion, even if sexy has become a less straightforward compliment after MeToo. So please, there's no point pretending that we are too woke to care about looking hot these days. We still care. Nobody is taking vows of sartorial chastity here. But perhaps we are making some progress in how we think about sex and fashion if we are more conscious of whose rules are being played by, and whose needs are being met. As long as the survival of the human race depends on sex, looking attractive isn't going out of fashion. But there is room for evolution.
It is Valentine's weekend, and dressing for date night is the hot spot where the rules of attraction meet the rules of social convention. Which means that some Valentine looks might just be a little different this year, in the MeToo afterglow. The neckline might be altered, or the skirt might be a new length. Or maybe the clothes are the same but you might wear different underwear or decide against the high court shoes with toe cleavage, and look – and feel – different as a result. The way we dress for date night through the years reveals so much about our changing attitudes to sex. Braless under a silk blouse in the midst of the sexual emancipation of the early 70s. Spike-heeled and armoured in sequins in the competitively charged, battle-of-the-boardroom 80s. Unravelled and lipstick-smudged in the fog of 90s grunge when a Saturday night was more about getting high than getting laid.
A Gucci model at Paris fashion week … dressed in a way that might work for a portrait sitting with Leonardo da Vinci rather than Helmut Newton. Photograph: Victor VIRGILE/Gamma-Rapho via Getty Images
It is 18 months – three seasons, in fashion terms – since the MeToo movement was born. In that time, fashion's centre of gravity has shifted away from sex. Hemlines are longer, silhouettes are looser. From London to Milan to Paris to New York, on glitzy spotlit runways polished to a mirror shine and on catwalks marked out with tape on concrete floors, a new course is being set. From Stella McCartney to Erdem, Coach to Loewe, Dior to Max Mara, there are skirts that swish the ankle and sleeves that graze the fingertips. Fashion has shifted the emphasis from skin to fabric. As a sweeping generalisation, there are more sweeping hemlines. Gucci, the runaway fashion success story of this decade, peoples its catwalks and advertising campaigns with women who would appear to be dressed in a way that might work for a portrait sitting with Leonardo da Vinci rather than for one with Helmut Newton.
Roland Mouret, a fashion icon for two decades, has recently gravitated away from the siren curves of his Galaxy dress, revisiting the pleats and cascades he learned while working with Yohji Yamamoto and Issey Miyake in his 20s. At his spring/summer 19 show, models wore badges in support of the MeToo movement and catwalked on the roof of the National Theatre to the sound of Aretha Franklin singing Natural Woman. Mouret said at the time that the new silhouette felt like a redefinition of his relationship with the female body. In the second half of her decade in fashion, Victoria Beckham, too, has pivoted firmly away from fitted dresses and toward loose, fluid separates. Such silhouettes – once the hallmark of alternative, arthouse fashion – have become mainstream. Vanessa Spence, design director at Asos, confirms the shift is happening on the high street. "The midi length has become a staple in our fashion vocabulary. Necklines still vary, but we have recently seen more of a focus on the back as an exposed area." Sexy, she says, is no longer a concept that takes up more bandwidth in womenswear than men's. "It's the same across the sexes – which is surely a good thing."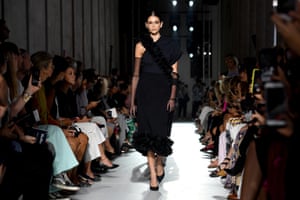 'The emphasis has switched from skin to fabric' … model Kaia Gerber at the Max Mara show during Milan fashion week spring/summer 2019. Photograph: Jacopo Raule/Getty Images
There will always be cross-pollination between sex and fashion, but MeToo has prompted a conversation about healthy boundaries around nudity and exposure. Changing facilities backstage at fashion shows are one issue being brought into the spotlight. It was long considered perfectly normal for an assortment of well-wishers, journalists, celebrities, friends of the designer – most, of course, with a camera phone in their pocket – to crowd immediately after a show into the open-plan backstage area where models were scrambling out of their show looks and into their own clothes. A year ago, New York fashion week was the first to address this, pledging "a safe and respectful working environment" with private changing areas. During London fashion week last September, the British model Edie Campbell…
---
Top ten list of stuff to buy for militant Feminists and Social Justice Warriors!
Sale
Bestseller No. 1
Bestseller No. 1
Bestseller No. 1
Bestseller No. 2
Bestseller No. 2
Bestseller No. 2
Social Justice Warrior Distressed Activism T-Shirt
If you always stand up for what you believe in, let the world know you're a social justice warrior that fights for what's right and isn't afraid to challenge the status quo
Fit: Slim (consider ordering a larger size for a looser fit)
Proudly announce your status as a social justice warrior by wearing this tee to political rallies, political marches, activist events, bars, parties, barbecues, school, community...
Bestseller No. 3
Bestseller No. 3
Bestseller No. 3
Bestseller No. 4
Bestseller No. 4
Bestseller No. 4
Social Justice Warrior Shield Distressed T Shirt
Great gift for protestors and activists. Wear on voting day, to a political protest, or your next rally. Let's make change.
Social Justice Warrior, SJW shirt, Resist, anti-trump, democrat, republican, register to vote, human rights, inequality t-shirt.
Lightweight, Classic fit, Double-needle sleeve and bottom hem
Bestseller No. 5
Bestseller No. 5
Bestseller No. 5
Bestseller No. 6
Bestseller No. 6
Bestseller No. 6
Bestseller No. 7
Bestseller No. 7
Bestseller No. 7
Bestseller No. 8
Bestseller No. 8
Bestseller No. 8
LookHUMAN Social Justice Warlock White/Black Medium Mens/Unisex Baseball Tee
Our unisex baseball tee features 3/4 length sleeves and is made from a lightweight blend of 52% cotton and 48% polyester. Printed in the USA.
ATTENTION: All LookHuman products are original designs, created by humans on our design team. Sellers with similar designs at lower prices are not affiliated with LookHuman, nor...
For amazing products and great customer service, please make sure you choose "LookHuman" as the seller. Our items are printed in the USA.
Bestseller No. 9
Bestseller No. 9
Bestseller No. 9
Bestseller No. 10
Bestseller No. 10
Bestseller No. 10
Last update on 2019-04-21 / Affiliate links / Images from Amazon Product Advertising API