"HuffPost Her Stories" is a new series highlighting HuffPost's coverage of women's lives from across our 15 global editions. Sign up for the weekly newsletter here.
South Korea's elite world of sports is in the midst of a Me Too reckoning. It began last month when two-time Olympic speedskating champion Shim Suk-hee accused her coach of having sexually abused her for years. Cho Jae-beom — who is already serving a 10-month prison sentence for physically assaulting athletes, including Shim — denied the sexual abuse allegations.
Shim's decision to speak out encouraged a barrage of other athletes to follow her lead. In the last few weeks, judo, soccer, taekwondo and skating stars have accused coaches and powerful sports executives of raping, threatening and sexually assaulting them. The outpouring of accusations prompted the Korean government to launch the country's largest-ever inquiry into a culture of abuse in sports.
HuffPost Korea's Sanga Kwak has written about the reckoning and the ways the country's male-dominant, hierarchical sports organizations made it so difficult for women and girls to speak up sooner.
Some readers may be surprised to read about the substantial gender disparities in Korean society, which Sanga writes are reflected in the country's sports scene. Korea ranked 115th out of 149 countries in the World Economic Forum's 2018 Global Gender Gap Report, which measures gender-based disparities in economic participation, education, health and political empowerment. Sanga notes that the gender gap is particularly large in the world of elite sports, where female athletes are overwhelmingly trained by men, who wield enormous power over their lives and careers.
But things are finally starting to change. Sanga says the national reaction to the burgeoning Me Too movement and to the government response has been extremely positive.
"Starting from about 2015, feminism in Korea has developed very quickly. More people than ever are listing to victims," Sanga adds. Among them is the country's first lady, Kim Jung-sook, who recently sent a letter of support to Shim, the Olympic speedskating champion who first called attention to the long-buried problem of sexual abuse in sports.
"Finally, many Koreans are listening to women," Sanga says. "I wish them victory."
For more on Korea's Me Too movement, read Sanga Kwak's 2018 article about the prosecutor who inspired the first wave of women to come forward and tell their stories.
Actress, Activist Alyssa Milano Predicts Better Days For Women Ahead
Associated Press
Actress Alyssa Milano listens as Supreme Court nominee Brett Kavanaugh testifies before the Senate Judiciary Committee on Sept. 27, 2018.
HuffPost U.S. senior reporter Emily Peck interviewed actress Alyssa Milano about her activism and assessment of gender equality in the United States. In 2017, the outspoken women's rights advocate famously used her platform to turn the Me Too movement, founded by social activist Tarana Burke, into a global phenomenon. She tells Emily that Hollywood is doing a better job of working toward gender equality than Washington, which she says lacks transparency and is plagued by corruption and cover-ups. "If you look at Hollywood right now, it's pretty transparent," she said. "People know they're under the microscope. We are talking about it." It's an insightful interview with funny bits about her reaction to seeing herself as a cardboard cutout on the satirical TV show "Saturday Night Live" and the lessons she's teaching her kids about consent.
Meet Apsara Reddy, The Transgender Rising Star In India's Oldest Political Party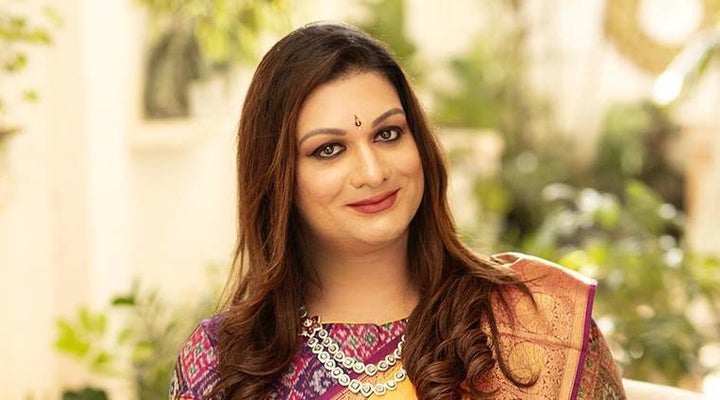 COURTESY APSARA REDDY
Apsara Reddy will advocate for women and include more members of the LGBTQ community as part of her new role in India's oldest political party.
Last month, India's oldest political party appointed a transgender woman to lead its women's wing. In her new role, Apsara Reddy plans to advocate for women in India and make the party's manifest more inclusive for members of the LGBTQ community. In an intimate and wide-ranging interview with HuffPost India, she speaks about her struggle to be taken seriously in a country that views transgender women, she says, as either dancers, escorts or "something related to the fashion and glamour world." Reddy also delves into her personal experiences as a transgender woman in both India and the U.K., where she lived for years, and her emotional reaction to learning about her historic appointment.
In case you missed it…
U.S. Navy To Launch First All-Female Flyover To Honor Pioneer Pilot
Why Women Wear White, A Brief History Of Political Fashion
Here's What I Want Donald Trump And Everyone Else To Know About My 'Late-Term Abortion'
Her Sexual Harassment Claim Was Found Credible. By Then She'd Already Left Politics
Ivanka Trump To Lead New White House Women's Empowerment Initiative
---
Top ten list of stuff to buy for militant Feminists and Social Justice Warriors!
Sale
Bestseller No. 1
Bestseller No. 1
Bestseller No. 1
Bestseller No. 2
Bestseller No. 2
Bestseller No. 2
Social Justice Warrior Distressed Activism T-Shirt
If you always stand up for what you believe in, let the world know you're a social justice warrior that fights for what's right and isn't afraid to challenge the status quo
Proudly announce your status as a social justice warrior by wearing this tee to political rallies, political marches, activist events, bars, parties, barbecues, school, community...
This premium t-shirt is made of lightweight fine jersey fabric
Bestseller No. 3
Bestseller No. 3
Bestseller No. 3
Bestseller No. 4
Bestseller No. 4
Bestseller No. 4
Social Justice Warrior Shield Distressed T Shirt
Great gift for protestors and activists. Wear on voting day, to a political protest, or your next rally. Let's make change.
Social Justice Warrior, SJW shirt, Resist, anti-trump, democrat, republican, register to vote, human rights, inequality t-shirt.
Lightweight, Classic fit, Double-needle sleeve and bottom hem
Bestseller No. 5
Bestseller No. 5
Bestseller No. 5
Sale
Bestseller No. 6
Bestseller No. 6
Bestseller No. 6
Bestseller No. 7
Bestseller No. 7
Bestseller No. 7
Social Justice Warrior T Shirt Human Rights Advocate Gift
This Proud Social Justice Warrior shirt is the perfect gift for any social justice, human rights, women's rights, or equal rights activist!
Wear this shirt to a political march or protest for women's empowerment, refugee rights, and immigrant rights! Hate has no home here.
Lightweight, Classic fit, Double-needle sleeve and bottom hem
Sale
Bestseller No. 8
Bestseller No. 8
Bestseller No. 8
Bestseller No. 9
Bestseller No. 9
Bestseller No. 9
Bestseller No. 10
Bestseller No. 10
Bestseller No. 10
OFFENDED BY SOCIAL JUSTICE WARRIORS sarcasm T-Shirt
Sarcasm and politics make a great combo. Satire is good for men or women. Join your next political rally or family reunion in your political statement shirt. Great gift for...
Whether you're republican, democrat, liberal, conservative, or centrist you can relate to being over the call out culture we've landed in. Set your politics aside and show your...
Lightweight, Classic fit, Double-needle sleeve and bottom hem
Last update on 2019-02-18 / Affiliate links / Images from Amazon Product Advertising API