Boswarva played the young Sister Margarita in Lambs of God.Credit:Mark Rogers
"They are making it a safer place because what went on for some of those women isn't right and I shouldn't have to be scared that, that's going to happen to me.
"I feel very privileged to be a woman in the industry who is able to have her own voice heard. I think that's such an honour now the path has been paved by people before me."
Boswarva will be able to relax and enjoy the major awards ceremony, having already won best female new talent, which was announced last month.
The aspiring actor received some welcome career advice from seasoned performers Damon Herriman and Tilda Cobham-Hervey, who spoke on the red carpet prior to Monday's AACTAs luncheon about navigating the path to stardom.
Cobham-Hervey, who missed out on best supporting actress for Hotel Mumbai, said Boswarva should "be brave" and "keep trying to find work that feels really authentic to you and that you really care about".
Loading
Herriman, a nominee for two upcoming awards including best lead actor in Judy & Punch, was more circumspect.
"It's always a hard question. From a pragmatic perspective I'd say always have another string to your bow so you can pay the rent and eat (if acting doesn't work out)."
Herriman also encouraged Boswarva to figure out early on what kind of roles she wanted to play, and to take early steps down that path.
Boswarva says she will give "110 per cent" to achieving her goals. "Aim for the stars … dreams don't work unless you try hard."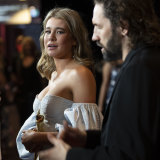 AACTA awards luncheon: Boswarva and Nash Edgerton on the red carpet .Credit:Louie Douvis
Herriman, in the meantime, remained confident the Australian film industry was in "pretty good shape".
"Every week there seems to be some new series or mini-series or telemovie, and the quality has become so great. I think the Australian industry has really stepped up in the last few years and it's just really exciting."
But streaming services such as Netflix should be regulated, he said, to force them to produce more local content.
"It would be good if the streaming services had to make as much Australian product as the other channels do. Hopefully things will head in that direction."
Cobham-Hervey agreed streaming platforms "allow us to take more risks" but she hoped the cinema experience will survive the disruption.
The AACTAs screen at 8.40pm on Wednesday on Channel Seven.
Josh Dye is a news reporter with The Sydney Morning Herald.
Most Viewed in Culture
Loading
---
Top ten best products for Social Justice Warriors!
Sale
Bestseller No. 1
Bestseller No. 1
Bestseller No. 1
Bestseller No. 2
Bestseller No. 2
Bestseller No. 2
Social Justice Warrior Distressed Activism T-Shirt
If you always stand up for what you believe in, let the world know you're a social justice warrior that fights for what's right and isn't afraid to challenge the status quo
Fit: Slim (consider ordering a larger size for a looser fit)
Proudly announce your status as a social justice warrior by wearing this tee to political rallies, political marches, activist events, bars, parties, barbecues, school, community...
Bestseller No. 3
Bestseller No. 3
Bestseller No. 3
Bestseller No. 4
Bestseller No. 4
Bestseller No. 4
Social Justice Warrior Shield Distressed T Shirt
Great gift for protestors and activists. Wear on voting day, to a political protest, or your next rally. Let's make change.
Social Justice Warrior, SJW shirt, Resist, anti-trump, democrat, republican, register to vote, human rights, inequality t-shirt.
Lightweight, Classic fit, Double-needle sleeve and bottom hem
Bestseller No. 5
Bestseller No. 5
Bestseller No. 5
Bestseller No. 6
Bestseller No. 6
Bestseller No. 6
Bestseller No. 7
Bestseller No. 7
Bestseller No. 7
Bestseller No. 8
Bestseller No. 8
Bestseller No. 8
LookHUMAN Social Justice Warlock White/Black Medium Mens/Unisex Baseball Tee
Our unisex baseball tee features 3/4 length sleeves and is made from a lightweight blend of 52% cotton and 48% polyester. Printed in the USA.
ATTENTION: All LookHuman products are original designs, created by humans on our design team. Sellers with similar designs at lower prices are not affiliated with LookHuman, nor...
For amazing products and great customer service, please make sure you choose "LookHuman" as the seller. Our items are printed in the USA.
Bestseller No. 9
Bestseller No. 9
Bestseller No. 9
Bestseller No. 10
Bestseller No. 10
Bestseller No. 10
Last update on 2019-04-21 / Affiliate links / Images from Amazon Product Advertising API